Certifications

The purpose of the American Red Cross Lifeguarding course is to provide entry-level lifeguard participants with the knowledge and skills to prevent, recognize and respond to aquatic emergencies and to provide care for breathing and cardiac emergencies, injuries and sudden illness until emergency medical services (EMS) personnel take over. Participants must be at least 15 years of age and be able to pass the pre-requisites for the course. The pre-requisites for the course are: swim 300 yards continuously; swim 20 yards dive down 7-10 feet and retreive a 10 pound brick, return to the surface, swim 20 yards on the your back in 1 minute 40 seconds; and tread water with no hands for 2 minutes. There are review course options available for this certification if you are currently an American Red Cross certified Lifeguard. Must have a minimum of 3 people in class. Link to the American Red Cross Lifeguard Online Portion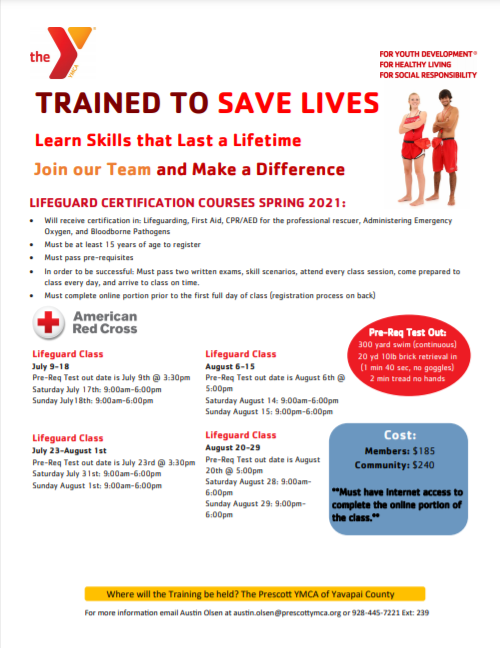 YMCA Swim Instructor Course
Upon successful completion of this course, Instructors will be able to identify components of the YMCA Swim Lesson continuum, demonstrate the behaviors of an effective YMCA Swim Lessons Instructor, maintain an inclusive environment of learning while keeping order in a positive and safae enviornment, employ swim teaching techniques that breakdown the critical feature of a swimmer's skill progression at any age and stage and demonstrate the swim instructor's role in the safety process and during an emergency. Must have a minimum of 3 people in each class in order for the class to run.
American Red Cross Junior Lifeguard
The purpose of the American Red Cross Junior Lifeguard course is designed to teach students basic water rescues, now to help lifeguards. In the class students will become Junior Lifeguard certified, CPR, and First Aid certified. Students must be at least 11 years of age and be able to pass the pre-requisites. Contact Austin Olsen at austin.olsen@prescottymca.org if interested in taking this course or register at the front desk today!
American Safety and Health Institute Courses: CPR/AED and Basic First Aid
Every month the James Family Prescott YMCA offers ASHI CPR and First Aid. Class times and days vary. Basic Life Support classes also offered. Inform the instructor prior to the start of class that you need BLS and be prepared to work a little longer.